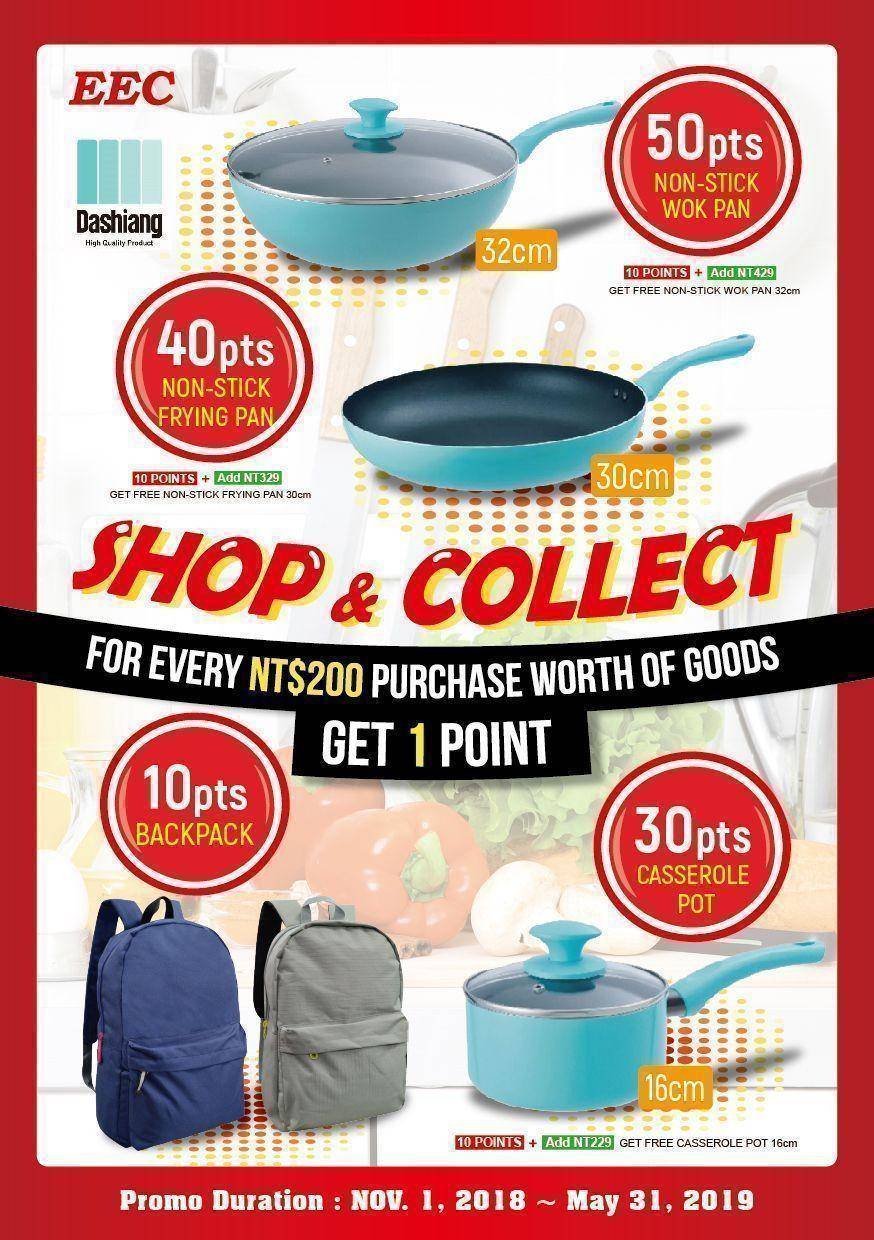 NOVEMBER 2018

PROMO MECHANICS
1.Get (1) point for every NT$200 purchase worth of goods.
2.Points are only valid if it is stamped on EEC shop & collect card.
One (1) stamp means one (1) point.
3.Ways to avail the promo:
a.Collect ten (10) points to get one (1) free Backpack Bag.
A.1 Collect ten (10) points add NT229 Get Casserole Pan 16cm.
A.2 Collect ten (10) points add NT329 Get Frying Pan 30cm.
A.3 Collect ten (10) points add NT429 Get Wok pan 32cm.
b.Collect thirty (30) points to get one (1) free Casserole Pot 16cm.
c.Collect forty (40) points to get one (1) free Frying Pan 30cm.
d.Collect fifty (50) points to get one (1) free Wok Pan 32cm.
4.Phone Cards, Cigarettes and 3C products are not included in
the point distribution.
5.Once the item is opened, it can only be exchanged if there is a defect.
6.Photos are for references only, actual items may vary.
7.The product items for this promo are subject to its availability.
8.Broken, unrecognizable, and copied point card and points are invalid.
9.Unauthorized reproduction of points and shop & collect card is illegal.
10.Points are non-convertible to cash and non-refundable.
11.All points are not reusable, points can only be used once.
12.Shop & collect card must be presented to the cashier upon transaction.
13.EEC will not be liable for lost and stolen shop & collect cards.
14.Not valid for EEC agents.
15.PROMO PERIOD: November 1, 2018 to May 31, 2019.
16.Exchange of promo items until June 30, 2019.
17.This promo is exclusive for Tainan, Tainan-TK, Yongkang & Rende
Service Stations Only.
18.Promo terms and conditions are subject to change without prior notice.